CHECK IN-STORE PRODUCT AVAILABILITY
Use our new "find in-store" option to see who's got it in stock today
It's easy. Here's how:
1
See It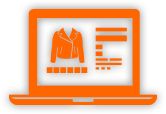 Shop Online
To find an item you want
2
Find It
Click the "find it at a store near me"
button on the product page
3
Buy It

Visit a local h-d Store
that has the item in stock
FREQUENTLY ASKED QUESTIONS
We do not have a reserve online feature at this time. The "Find It at a Store near Me" feature simply lets you know who has it in stock. But you're free to call a store and ask the associate to set it aside for you.
H-D dealerships cannot fulfill orders placed online. If you need an item today, use the "Find It at a Store near Me" feature to locate the item and head over to a store that has it in stock today for purchase.

You can, however, purchase any item online and ship it to participating H-D dealerships for FREE pickup. Items should be ready for pickup within 5-7 business days. To do this, add an item to your cart and choose the "H-D® Dealership Pickup" option as your shipping destination during checkout. Note that all online orders are processed and shipped by our H-D Fulfillment Center.
When you check a product's in-store availability, you'll see one of these statuses to let you know whether or not the item is in stock.
Available: Got it! This means the item is in stock at the specified location. Inventory changes frequently, however, so you may want to call the store to confirm.
Limited: Quantities are limited, so go get it now before someone beats you to the punch. To ensure availability, contact the store to have a sales associate locate the item and hold it for you.
Contact Store for Assistance: Before we send you on a wild goose chase, we suggest contacting the store to double-check availability. You may also ask about special ordering items that are out of stock.
Prices listed online are generally the Manufacturer's Suggested Retail Price (MSRP), excluding taxes and shipping. Prices at stores may vary.
No. Product selection on the H-D Online Store may vary from stores. Use the "Find It at a Store near Me" feature to confirm in-store availability. Note that store associates may be able to special order most items if currently out of stock.