Get a leg up on the riding season with our Heated One-Touch 12V Pant Liner. Our most innovative heated gear, this lightweight layer delivers toasty warmth with a touch of the finger. It begins with the unique wireless wrist controller. This innovative device can be positioned on your wrist in your line of sight to help keep your eyes on the road. Efficient, infrared heating elements bring gear up to temperature in an instant so you start warm that very first mile. When paired with the compatible Heated One-Touch Programmable 12V Jacket Liner, Sock Liner, and Glove Liner, you have yourself a top-to-toe suit of comfort. Here's a full list of functional callouts for these heated motorcycle pants…
Stay Dry: Carbon nanocore heating system for fast, evenly distributed warmth through four heating panels—two knee and two lower leg.

Power Source: Coaxial plugs on both legs connect to the Heated One-Touch Programmable Sock Liner (sold separately). Can also be worn with the Heated One-Touch Programmable Jacket Liner and Glove Liner (both sold separately) for full-body warmth.

Temperature Controller: One-Touch Programmable Wrist Controller (sold separately) is required if using this Pant Liner without the Heated One-Touch Programmable 12V Jacket Liner.

Ride Enhancing Features: Elastic back waist, zipper fly with snap and adjustable tab.

Additional Features: Woven label. Includes Garment Receiver and Y-Splitter.

Materials: 95% polyester, 5% nylon outer shell with polyester lining.
Other

One-Touch and the BTC heated gear is NOT compatible with any previous heated gear programs offered by Harley-Davidson®

Built for the Ride

Collection

Shell fabric

Warranty

3 year limited warranty – Go to www.h-d.com/warranty for full details

Origin
What is the inseam measurement on the heated pants?
What temp do the pants maintain or the highest degree
Thanks !
is the One-Touch gear compatible with Dual Source
I bought the dual source Gloves and Jacket Liner last year, are they compatible with the One-Touch Programmable Pants and Boot Liners? I assume I am going to need to purchase the wireless wrist controller too, but I really want to know if I can plug them in all together, or do I need a Y adapter from the lead coming from the batter with one end going to the Pants / Boots, and the other to the Jacket / Gloves..
Hi HogRiderPDX, Unfortunately, the Dual Source Gloves and Jacket cannot be interchanged with the One-Touch Programmable Plug-In 12V Heated Gear. The One-Touch Programmable Plug-In requires the Wireless Wrist Controller; while the Dual- Source depends on the 12V electrical system and/or a 12V lithium rechargeable battery. Hope this helps!
Date published: 2016-12-12
Is this item worn over or under your jeans? Is it water proof/resistant.
If it rains will it sustain damage. Thanks USMC455
Hi USMC455, These pants are to be worn under your regular pants as a warmth liner. We do not encourage them to get wet because it may cause the controls to stop functioning properly. Thank You for your submission.
Date published: 2016-05-01
Is the liner water resistance? Do u wear the liner over your jeans or under them?
Concerned if the pants liner are worn over or under your jeans. Are they water proof/water resistant. If they are worn over jeans will they get damaged if they get wet? Thanks USMCISP
I wear mine over my jeans. They are tough, will shed water easily, and have lasted for me for 7 or more years.
Date published: 2017-02-13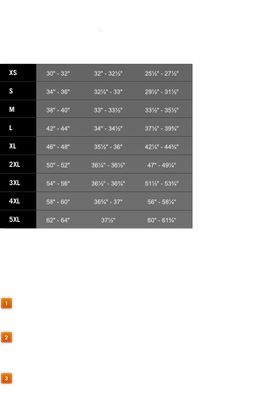 Loading...
Please Hold Your Iron Horses