The dealer that I go to had a SE slip-on installed on an XG 750 and it didn't sound much different than the stock pipe, except for the sound of the air passing through the diffusers. This didn't seem worth the $350 price tag. Your response to another question regarding this product was recommending not to remove the BAFFLE. However, there was a video on Youtube where a guy removed the DIFFUSERS and it sounded perfect. Does this in any way require any calibration of my engine?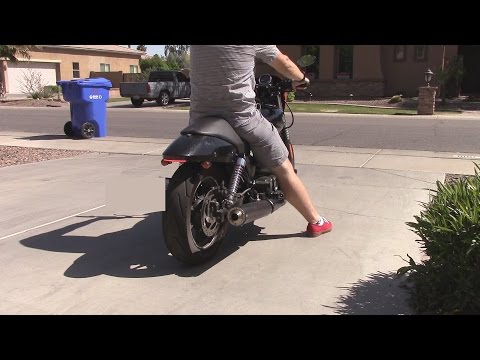 March 10, 2016
by
Tampa, FL
0
out of
0
found this question helpful.
Was this helpful?
helpful
0
unhelpful
0
http://answers.harley-davidson.com/answers/submit/6501/product/PA-06-64900220/question/2091595/undohelpfulness.djs?authsourcetype=__AUTHTYPE__&format=embeddedhtml&innerreturn=http%3A%2F%2Fanswers.harley-davidson.com%2Fanswers%2F6501%2Fproduct%2FPA-06-64900220%2Fquestions.djs%3Fexpandquestion%3D2091595%26format%3Dembeddedhtml%26scrolltotop%3Dtrue&return=__RETURN__&sessionparams=__BVSESSIONPARAMS__&submissionparams=__BVSUBMISSIONPARAMETERS__&submissionurl=__BVSUBMISSIONURL__&user=__USERID__
Answers
Answer: 
Hi Ericthered74,
The baffles are there for EPA compliance, if they are removed they will be out of that compliance. Since we haven't done any testing, or validated the removal of the baffles, we can't give out any info in regards to calibration.
March 11, 2016
Milwaukee, WI
0
out of
0
found this answer helpful.
Was this helpful?
helpful
0
unhelpful
0
http://answers.harley-davidson.com/answers/submit/6501/product/PA-06-64900220/answer/3120453/undohelpfulness.djs?authsourcetype=__AUTHTYPE__&format=embeddedhtml&innerreturn=http%3A%2F%2Fanswers.harley-davidson.com%2Fanswers%2F6501%2Fproduct%2FPA-06-64900220%2Fquestions.djs%3Fexpandanswer%3D3120453%26expandquestion%3D2091595%26format%3Dembeddedhtml%26scrolltotop%3Dtrue&return=__RETURN__&sessionparams=__BVSESSIONPARAMS__&submissionparams=__BVSUBMISSIONPARAMETERS__&submissionurl=__BVSUBMISSIONURL__&user=__USERID__